Berry The Dog says....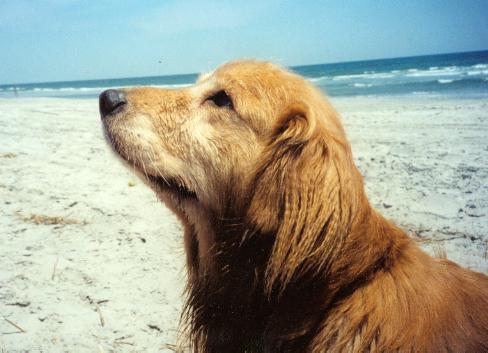 WELCOME!!!!
Dogdoggiedog.com is always "under construction" as we try to add news and information to meet our goal of providing friendship, insights, and possible assistance. Check out the info in the various links provided in our menu to discover what's available so far....
If you have a pet with cancer and are trying to sort out what the future may hold, you are urged to visit the Pets with Cancer Lifeline created by dog and cat owners who have had their pets treated by the Oncology Service at the Matthew J. Ryan Veterinary Hospital of the University of Pennsylvania and other specialty practices.
* * * * *
The dogdoggiedog.com website is not sponsored or endorsed by any individual, program or manufacturer listed in the Links. Created by Lead Dog Carol Dubie, it exists simply to celebrate the life of Berry The Dog and to help dog owners cope with canine lymphosarcoma in their own, treasured pets.
Thanks to the Matthew J. Ryan Veterinary Hospital of the University of Pennsylvania (VHUP), above all, to Dr. Jennifer Baez, Roxanne Bachman, and Dr. Karin Sorenmo, the mainstays of Berry's care; to Dr. Sally Bissett, who first diagnosed Berry and urged us to treat him (welcome back from Australia, Dr. B!); to Dr. Lisa Barber, who served as Berry's oncologist from February 2000 until November 2001; to Drs. Janet Burke, Craig Clifford (may the luck of Berry go with you to Redbank!), and Beth Overly, residents in the Oncology Service; and to Dr. Heather Peikes, the former VHUP dermatologist who "cracked the code" on Berry's skin problems.
Many thanks also to "Alpha Dog" Greg and Big Red Cody Dog (DVGRR 95-126), who started it all; Kim and the ageless Pal, another DVGRR graduate; Berry's foster parents Lois and Richard and Miss Amanda Jones (yet another DVGRR graduate); and Bill and Linda and the memory of Murphy and Mason.
Thanks to "Pack Dog" DC for helping to set up the website and for the many walks and romps he's shared with Berry.... SPECIAL thanks also to Brian "The Berkster" Berkey for his computer skills and to Berry's friend Jean Hall who handles those tasty mid-day treats and provides access to good sniffings in the backyard!
Comments or questions?
We want to hear from you!
You can reach us at: inevery@yahoo.com